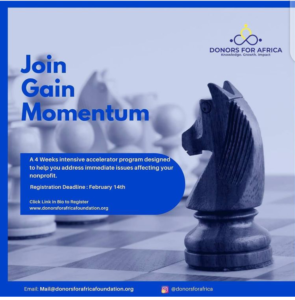 We understand that many of you may not be able to join the inner-circle at this time so we have created a similar mind boggling program for you.
"Gain Momentum" is a 4 Weeks Intensive Program that will propel you forward, and faster than you expect.
It will be tough, demanding and your full commitment required as you only have 4 weeks to see the results you wish.
What will you learn?
– How to craft your Nonprofit Strategy
– How to create your marketing and communications plan to attract funding
– Strategy to identify the right partners and how to engage with them
– Enjoy group coaching session
– Learn how to mobilize resources for your cause
– Receive free and discounted templates
– Have access to our office hours and receive support and answer to any nonprofit issue affecting you
We encourage you to be INTENTIONAL about your organizations growth and dedicate your ALL in this 4 Weeks Program.
Deadline – February 14th
Start Date – February 19th
Are you ready?
Click Link Below to Register Immediately: