On DFA, Interview Series- Meet Morolayo Akpuluma, Our SIBC First Runner-up & Founder/Executive Director of Gold Health Initiative.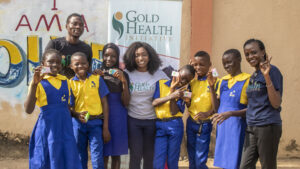 Tell us about your self?
My name is Morolayo Akpuluma. I am a bi-lingual (Russian/English translator) Executive and health advocate with extensive knowledge and training as a Pharmacist. I have over nine years of experience in multiple Government and Stakeholder engagements.
I am the founder and Executive Director of Gold Health Initiative and I'm passionate about creating a more inclusive, equitable, and sustainable future for all.
I am currently studying for a second Masters Degree in Public Health because of my passion (my care for the greater good of human beings). I want to contribute my quota in improving the conditions and behaviors that affect health so that everybody (particularly the vulnerable in society) can attain it.
I am married and I've two children. I enjoy reading and traveling.
Tell us about your organization?
The Gold Health Initiative is a registered non-profit Organization that supports Sustainable Development Goals 3 and 6. The Initiative creates awareness around hygiene and sanitation projects, antimicrobial resistance (AMR), and mental health.
We envision an Africa where every individual – even in the most remote areas live healthier and longer lives.
To achieve our vision, our work is centered around three pillars:-
Hygiene and sanitation

Antimicrobial resistance (AMR) awareness

Mental Health
We do all of this by providing;
HYGIENE AWARENESS
Infrastructural support – We Build hand wash stations and also provide hygiene kits and anti-bacterial products. 

Education/Sensitization Programs – We organize community talks on communicable infections. We also take our sensitization campaign to schools (mainly primary and secondary schools). 
ANTIMICROBIAL RESISTANCE AWARENESS
Creating awareness – Blog writing
                                            Social Media videos
                                            E-books 
                                            Enlightening talks 
MENTAL HEALTH AWARENESS 
Sensitization – Organizing talks in communities

Blog writing
E-books and booklets

Education – Stress management courses for teachers,

Mental health, stigma, and awareness for civil servants and employees.
Subsidized trainings for the private and public sector:
Our pilot project was in an IDP (Internally Displaced Peoples) Camp in Abuja where we did a sensitization program for the children on proper hand-washing and this was in November 2019. Afterward, we built a hand wash station for the children at the camp. We were able to record a reduction in absenteeism by 70% and equally reduced visits of the children to the community clinic. This also reduced the prescription and usage of antibiotics.  
Our objectives – 
To promote healthy living.
To organize seminars, workshops, publish journals, newsletters as a contribution towards educating the general public on mental health, hygiene, antimicrobial resistance, and the practice of quality health care and holistic integrative medicine.
To advocate, encourage, and guide the general public on medicine compliance and healthy lifestyles.
Projected Goals for the next 24 months– Build 50 wash stations across Nigeria.
Train 2000 on good hygiene, communicable infections, and how to prevent it.
Educate/sensitize 1000 civil servants and employees on stress management and mental health.
What inspired you to apply for the Social Innovator Boot Camp and what unique lesson did you learn from the program?
I was hoping to find a fellowship program in Nigeria, I also wanted to attend a boot camp that would know the different curves being experienced by the nonprofits in this region (Africa). 
I learned that non-profit Organizations around the world face similar issues as we do here and as Founders/Directors we have a huge role to play.
We must tackle problems from the root cause to make a long-lasting change (advocacy).
As an advocate for health/personal hygiene, what motivated you into the sector?
I am a Pharmacist by profession. I attend a good number of patients frequently. I have discovered that most times, contacted sicknesses can be avoided.  As a mother of two children, I always make sure my children learn basic hygiene techniques and have access to hygienic areas and material/items.
I believe that this world will be a better place if all children can have access to basic hygiene items like my children.
How has been your journey so far in addressing the issues on health/personal hygiene especially with children?
It has been an interesting journey, more like a discovery.  It is indeed a long journey to give all children hygiene facilities. We will surely get there.
However, I have learned that partners, friends, and mentors are needed as they will help you go far in achieving your goals and objectives. We would also have to carry caregivers and parents along when we work with children so we can have an impact on the children and family unit as a whole.
What advice can you give to young people who want to be an advocate on the same sector?
My advice to young health advocates is that they should not relent in partnering with other advocates; instead, they should embrace collaboration as this will help the cause to achieve more impact.
They should also enjoy the journey.
To know more about Morolayo, and her amazing work in the development sector, you can follow her on:
https://www.instagram.com/thegoldhealthinitiative/