CHIDI KOLDSWEAT, WORKING WITH SOCIAL IMPACT LEADERS TO BREAK THE CYCLE OF POVERTY.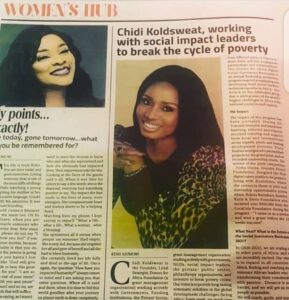 CHIDI KOLDSWEAT, WORKING WITH SOCIAL IMPACT LEADERS TO BREAK THE CYCLE OF POVERTY.
Tell us About Donors for Africa Foundation
Donors for Africa Foundation is a grant management organization working actively with governments, NGOs, social impact leaders, the private/ public sector, philanthropy organizations, and investors to break poverty cycles. Our vision is to provide long-lasting systematic solutions to the global development challenges facing Africa.
Since our launch, social impact organizations have accessed over $349,500 in funding, used to train over 5000 women from marginalized communities, build libraries in garbage centered communities, launched digital platforms that connect Person's Living with Disabilities to career opportunities, and more.
Every week, we reach over 22,000 unique global development accounts, providing them with learning,  trending industry news, grant opportunities, and useful information to improve their competence to scale up their impact glocally. We have trained over 500 nonprofits, published third sector reports, and continue to provide personalized technical expertise to foundations and social sector groups across Africa.
We are raising transformational development leaders who can access funds, build sustainable organizations, and achieve groundbreaking results. We desire to see a strong integrated African continent whose progress is people-driven. We make this possible by directly impacting the next generation of change-makers working to achieve the SDG goals and fulfill the  Agenda 2063.
Tell us about the premiere Digital Social Innovators Bootcamp in Africa, why you launched it, and its importance in development?
The digital Social Innovators is the first of its kind. In other programs, distance has been a barrier, age, and sometimes several years in operation. We saw these limitations and decided to change the narrative with a digital program. We utilized the power of the internet and several innovative platforms to connect participants from different parts of Nigeria to share, learn, and link, forging new partnerships and collaborations.
The Donors for Africa digital Social Innovators Bootcamp is an annual leadership accelerator program targeted at equipping and developing third sector leaders' technical expertise in Africa.   Our focus is on this overlooked group that is solving some of the world's biggest challenges in Africa with minimal resources and capacity.
The boot camp is designed uniquely for innovators and change-makers who want to deep dive and understand the rubrics of building a lasting sustainable social impact organization. It is committed to empowering practitioners through a 3-month immersive learning experience to make a long-term impact. Since our launch, the SIBC has fostered more collaborations, co-creation, and solutions, even as our participants learned from sector experts, peers, and leading development pioneers.
The SIBC is extremely important because if we hope to accelerate the global goals, there must be an increased direct investment in the human capital of development professionals in Africa. We are doing so by focusing on Goal 17- partnerships for the goals, strengthening the means of implementation, and revitalizing the global partnership for sustainable development.
Also, over 90% of social impact organizations die between the first two years not because of insufficient funds but due to a lack of clarity and knowledge on how critical drivers of change and implementing bodies are achieving results. With over $209,730,354,948 pumped into the system annually, there is still a huge skills gap that hinders development practitioners and, ultimately, the key players working on the SDGs from reaching its target.
The Impact
The impact of this program has been unrivaled. During the 3-month intensive and immersive learning, selected participants received training and support from local and international sector experts, peers, and leading development pioneers. Thirty finalists emerged who pitched their projects for the grand prize, and we recorded outstanding results.
The winner of the pitch competition – Aisha Dirisu, founder Peniel Foundation designed the first digital career platform for person's living with disabilities, where she connects them to jobs and internship opportunities across Africa.
Bukola Bamiduro, founder, Karis & Eleos Foundation who received over $300,000 from the CocaCola Foundation during the program – "I came in as a  novice and won a grant before the 12 weeks was over".
"One tangible milestone is the upgrade in proposal and grant writing. As a result of this program, I have written winning proposals," Israel Oladejo, Founder, The Visola Foundation.
"Before the program, we were non-tax compliant, now we are a detailed practitioner. We keep all our records. This program has changed the way our organization handles everything". Temitope Okunnu, Founder, FABE International Foundation. Temitope became an ACT Grantee in the same year.
Many others gained clarity, accessed international opportunities, gained access to a broad and diversified network. They gained more in-depth insights into innovative approaches needed to run an impactful organization.
What Next? What is the future of the Social Innovators Bootcamp 2021
In (2020-2021), we are scaling up to other parts of Africa, and we are incredibly excited. Our vision is to expand to all countries in Africa, finding and reaching more visionary African leaders who are transforming their communities with passion.  Distance is not a barrier, and we will get as many people as possible.
We will coach, guide, and support these leaders, enabling them to accelerate their impact and collaborate with development advocates in other parts of Africa. We increase their visibility through our platforms so that together, we can secure the future we all want for Africa.
We have tested the viability of this program and identified an overwhelming need in the sector. Now working with all the different stakeholders, we are eager to meet this need.
We are grateful to our sponsors such as Businessday, Sterling Bank, MARITEAM, The Nest Hub, and several stakeholders, partners and this year; we hope to partner with more indigenous organizations to scale up our impact.
We say thank you to our sponsors, facilitators, partners, and everyone who contributed to making our first cohort an immense success.
Tell us about the SIBC Pitch Competition Winner  for cohort 1
Following a rigorous selection process, Aisha Dirisu, founder of Peniel Foundation, emerged the winner of the SIBC Cohort 1. Peniel Foundation is a nonprofit that empowers and advocates for youths living with disabilities to attain their full potential and contribute to nation-building. The foundation's focus is to train young people with disabilities to become job-ready by equipping them with all the tools required to succeed and then connect them to internship opportunities and paid employment.
She received a grant prize of N200,000, coaching consultations, features in several media houses including BellaNaija, Leading Ladies, YNaija, and several others.