Girls Should Thrive Initiative (GiST)
Girls Should Thrive Initiative (GiST) is a Nonprofit Organization Founded and Pioneered by Mrs. Jennifer Agunloye Okoliko, is dedicated to raising female leaders and change makers in underserved communities. They achieve this through Education, Entrepreneurship and Technology, resident in Kano state, Nigeria. One of their women led initiatives is their Health for Her Project which is aimed at Sensitizing girls on their effects of poor health and wellbeing and educating them on ways to mitigate and care sustainably for themselves.
To mark the International Day of the Girl Child 2020 on October 11, they will be hosting Key Stakeholders, Policy Makers, CSOs and NGOs as well as Beneficiaries in Kano state to discuss sustainable solutions and foster policy discussions to issues bothering Rape, Teenage Pregnancy and Menstrual Hygiene. The theme for this year is "My Voice: Our Equal Future". The Project is dedicated to Shamshiyya, one of the Organization's Beneficiaries who was pregnant and died at the age of 19
The Conference in Partnership with Channels TV as Media Partners will be having Keynote Speakers, Panels Sessions, Drama etc. to usher in and discuss the way forward for these issues.
Some of the Special Guest include: The Daughter of the State Governor and Field Epidemiologiest, Dr. Amina Ganduje, HajiyaMairo Bello, Founder of Adolescent Health and Information Projects as well as Alhaji Ibrahim Waiya (President of Kano state Civil Society) will be delivering the Keynote sessions. Channels TV, Bella Naija, 7Up Nigeria will be partnering with them on this Project.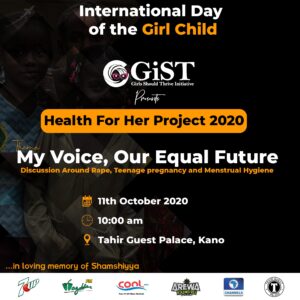 For Partnerships, Enquiries and Sponsorships, reach them via:
Email: info@gistinspires.org
Tel: +234-9042727195