Inner Circle Member Spotlight – Oluwatosin Issah
Every week, we love to bring you exciting news from Inner Circle members who are doing amazing work. Today, let's meet Oluwatosin Issah, Founder, of My Beads World Foundation. 
Who is Oluwatosin Issah Aishat ?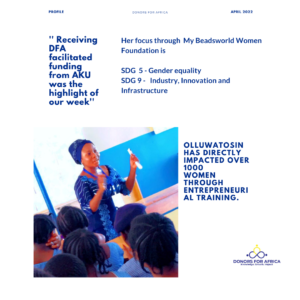 Issah Aishat Oluwatosin is the founder of My Beadsworld Women Foundation. She bagged her B.Sc in Biochemistry and M.Sc in Medical Microbiology at Olabisi Onabanjo University, Ago Iwoye, Ogun State, Nigeria. Oluwatosin is currently taking MBA (Masters in Business Administration) courses at Nexford University, Washington D. C, and is also a member of the inner circle, Donors For Africa Foundation.
She is a life member at Enterprise Development Centre, Pan Atlantic University, Lekki-Ajah, Lagos State. She is also a member of ImpactHER, SheLeads Africa, She decides, and Shetrades. She has directly impacted over 1000 women through Entrepreneurial training. She is passionate about building a community of financially independent women with a focus on women entrepreneurs at the grassroot.
ORGANISATION ACTIVITIES:
My Beadsworld Women Foundation is a registered not-for-profit organization that focuses on Sustainable Development Goals (SDGs) NO. 5 (Gender Equality) and NO.9 (Industry, Innovation, and Infrastructure).
Their activities includes: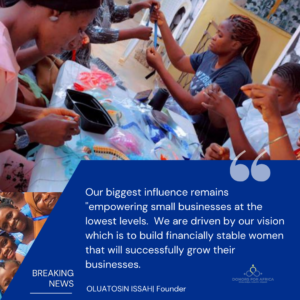 *Engagement of women entrepreneurs at the grass-root with step-by-step activities to build their business from the start.
*Business registration enhancement. writing of business plans, application for business grants, business idea pitching, and business growth track.
*Mentorship activities by matching our members with successful female business mentors for one on one business support.
*Sensitization program on gender awareness and bridging of the inequality gap through self-awareness and building of self capacity Secondary School girls.
*Vocational training for women and young girls as an empowerment scheme towards poverty alleviation.
*Annual celebration Women Entrepreneurship Day which congregates successful women in business to share their success stories as a motivation for others and the Annual International Women's Day where issues that concern women are discussed.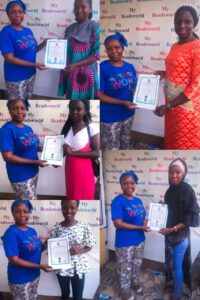 Our biggest Influence is on Women in small businesses at the low level(grass-root).
PARTNERSHIP: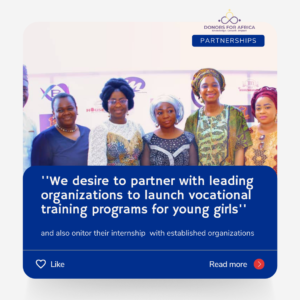 We look forward to partnering to organize vocational training for young girls and women and monitor their internships with established firms.
Vision: Our vision is to build a community of financially stable women that will successfully grow their businesses from the grassroot to a sustainable level.
We believe women need financial stability and empowerment to establish and fight for their gender rights.
To work with us, please contact us at 
38, Safari Junction, Abeokuta, Ogun State
Email: info@mybeadsworldfoundation.org
Website: www.mybeadsworldfoundation.org
Phone No: 08062338457