New LinkedIn 2020 Features
LinkedIn has always been my favourite platform. If you are not actively engaging on LinkedIn as a professional, I recommend you do so.
This year, LinkedIn has released some exciting new features that will benefit your personal and organizational brand. If you want to grow rapidly, you should consider them.
Below, we have shared some of these exciting new features.
1) Name Pronunciation
Say goodbye to wrong pronunciations.
LinkedIn's name pronunciation feature is a simple and effective for promoting inclusion and positioning yourself as one who respects others. As you may know, it is quite embarrassing to mispronounce other people's names so I am personally grateful for this addition.
This new feature, allows you to record a 10-second audio clip and add it to your profile. This allows other users  listen to the recording to learn how to correctly pronounce your name.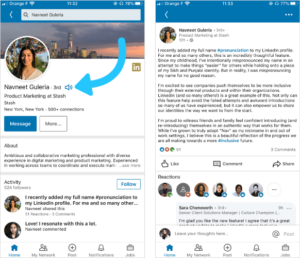 Do note that you currently can't record or edit your name pronunciation on the LinkedIn desktop site. It can only be done on LinkedIn iOS and Android mobile apps.
2) Reactions
You might not think of LinkedIn as a typical social network, but more people are using the platform to connect and engage with fellow professionals. LinkedIn has added a 'reactions' which allows you to express yourself better.
All you need to do is press and hold the like button, choosing from a range of different expressions: like, celebrate, support, love, insightful, and curious.
Register HERE for So You Want To Do Good?
3) Live Video
We all know videos are the next big thing right? It gives you an opportunity to connect better with your audience or followers. LinkedIn Live videos get on average 24x more comments than native videos produced by the same brand.
Sadly the review process to be approved to o live is not for the faint heart. Check it our below:
Video and overall content creation history
Audience size and engagement history
Member or Page account has been in good standing
Two Factor Authentication (2FA) enabled in account settings
So Goodluck to You!
4) Polls
LinkedIn Polls is a great new feature for driving quick engagements on the platform.You can use LinkedIn Polls as a conversation opener. For example, LinkedIn's Andrew Seaman encourages voters to share experiences in the comments, as well as taking part in the below poll: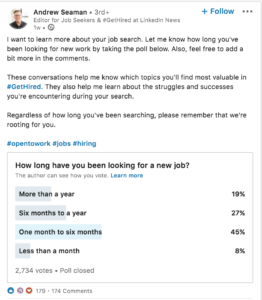 5) Organic "Carousel" Posts
LinkedIn "carousel" posts aren't exactly new for 2020 — in fact, the feature doesn't exist on LinkedIn.
But we have seen a surge in people sharing interactive, scrollable posts on LinkedIn over the last few months:
So what's the secret? LinkedIn documents.
LinkedIn documents can be previewed in a scrollable format, making them a perfect cheat-code for brands and businesses looking to share dynamic, engaging galleries of images on the platform.
So which of them will you be trying?
Original post by Jillian Warren