Donors for Africa announces a list of 2022 GE'DA Leadership Fellows. (An African Social Innovators Bootcamp Cohort 3)
Donors for Africa Foundation has proudly announced its 2022 GE'DA (An African Social Innovators Bootcamp) leadership development program fellows. 
The 42 selected fellows from 10 African countries represent Africa's leading changemakers who have demonstrated outstanding dedication to transforming their communities and shaping Africa's future.
GE'DA' fellows were chosen through a rigorous competitive process and criteria based on their commitment towards achieving the Sustainable Development Goals in Africa, outstanding leadership promise, and community service.
According to Chidi Koldsweat, the Executive Director, GE` DA' is a Benin word for "Together Build". It is a 3-months intensive professional leadership development program for third sector leaders working to improve their communities.
Through this program, they will receive intensive sessions from an expert faculty with competencies on the Sustainable Development Goals, pitch their projects, and access funding.
It is a call to stakeholders from the government, private sector, small businesses, philanthropy organizations, and international agencies to achieve the SDGs by investing in changemakers. The fellowship program is designed for those who want to understand how to play in the development sector and dive deep into building a sustainable social impact organization.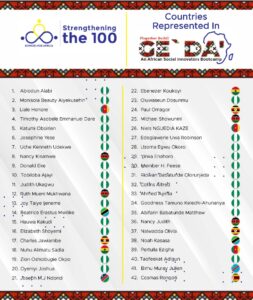 About Us
Donors for Africa Foundation is a nonprofit organization that works actively with social impact leaders, organizations, philanthropists, and investors to break poverty cycles by addressing the global challenges we face in Africa. The NGO is determined to build a better world by strengthening mission-driven African Social Innovators' capacity to access funds, achieve groundbreaking results, and create sustainable organizations. We make empowered Institutions with suitable internal structures and processes armed with a clear road map for action through our work. Through several leadership incubation programs, we raise transformational nonprofit/social impact leaders who are skilled and competent in implementing the SDGs. We advocate for and educate government and private sector agencies on policies that accelerate the SDGs and the 2063 Agenda. We also focus on research & Impact Investment.
For partnerships, don't hesitate to contact us at partner@donorsforafricafoundation.org/mail@donorsforafricafoundation.org.